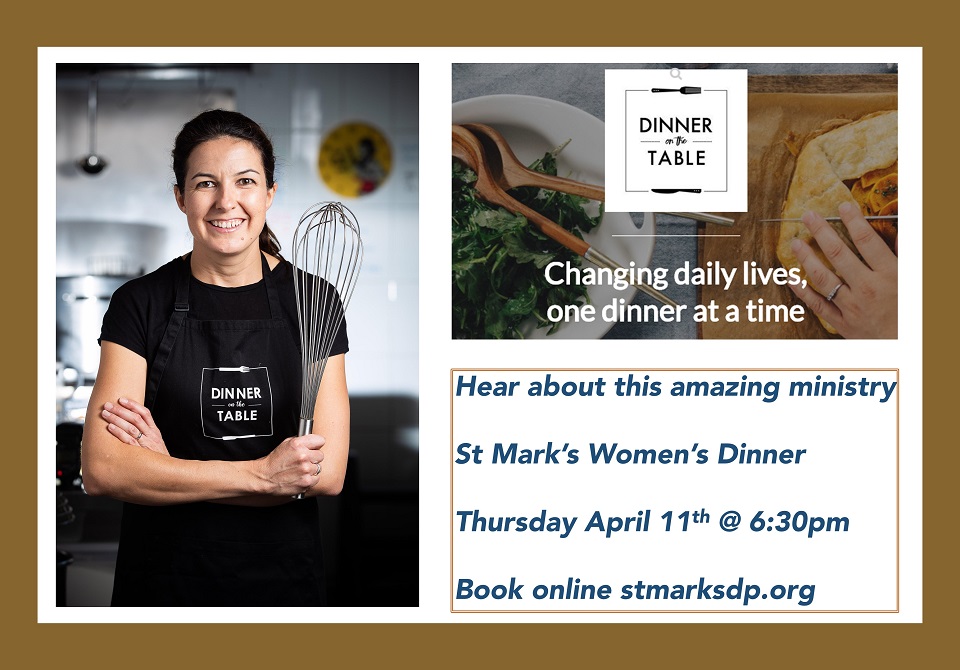 Women's Dinner
Starts: Thu 11 Apr 6:30pm
Location: St Mark's Church, Greenoaks Avenue, Darling Point NSW, Australia
Dr. Rachel Golding is the founder of Dinner on the Table, a social enterprise kitchen based in Baulkham Hills that delivers ready-made meals and provides catering services for events. All of their profits go towards providing a meal at no cost for women who are vulnerable due to a disability and for their families. Before founding Dinner on the Table in 2014, Rachel was a Postdoctoral Fellow at the University of Sydney, researching the experiences of women with intellectual disabilities whose children were voluntarily removed. Her PhD thesis was 'Becoming a mother: The experience of women with intellectual disabilities'.
Join us on Thursday 11 April at 6:30 PM to taste one of their delicious meals and to hear how Rachel started Dinner On The Table as a step of faith. *The $40 cost of your dinner ticket to this event will go towards their cause.*
Please click here to register for this great night. Why not invite a friend to come along as well?